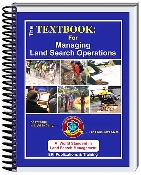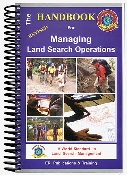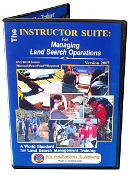 For Public View Contents (PDF)
The Textbook for Managing Land Search Operations by Robert C. Stoffel

This is a completely rewritten, and reorganized textbook for the course "Managing Land Search Operations." This book takes the place of the original document "Search is An Emergency" initially published by the Emergency Response Institute and later by Emergency Response International. The foundation material contained in this book has been the cornerstone for land search coordinators for over three decades in thirteen countries. If you are an instructor, Search Manager, or Overhead Team Member in local or regional search operations, this is a must have text. Spiral bound, 540 pages, 3-hole punched and in 8-1/2X11 or A4 formats.

Order Now $36

The Handbook for Managing Land Search Operations by Robert C. Stoffel

The latest and most comprehensive handbook for the SAR Manager for Overhead Team Members who have to do the job on scene. This latest Revision provides comprehensive updates on lost and missing person behavior along with suggestions, hints, reminders, forms and charts for those responsible to run a search for a missing person. The new section on POD deals with the latest research on the tie-in between vision, detection and programming searchers in the field. Spiral bound, 424 pages, 5-1/2" X 8-1/2" compact format makes it ideal for field use.

Order Now $28

The Instructor Suite for Teaching the Course "Managing Land Search Operations" by Robert C. Stoffel

Instructor Suite hightlights:
Four basic enhanced map exercises with additional objectives, new pictures and alternative teaching options - PowerPoint slides included.
Instructor's Map Problem Manual with handouts, clues, instructor notes, map keys and locations from the actual incidents.
Example mission video - "8 Days in July" plus more video clips embedded in PowerPoint.
Four Additional Supplemental Map Problems & Exercise Manual
Course agenda with suggested times, and detailed plan of instruction.
Worksheets, and new probability of success tracking Forms.
ICS Forms, course test and answer key.
Licenses from 4 to 8 users.
Fonts for PowerPoint plus course administration & organizational aids
Pricing:
$650.00 for a license good for 1 to 4 computers.

$900.00 for a license good for 5 to 8 computers
The Perfect Combination
Teaching a MLSO class? Consider using Lost Person Behavior as part of your class. For many instructors this is the perfect combination when conducting the map exercises that are integral to the MLSO class experience. Students will then use the most up-to-date information, get a chance to see different ways of thinking about where to look, and most importantly practice with the right tools while still a student. Case discounts are available for Lost Person Behavior.